Digital PA™
Improve Patient or Member Acquisition, Retention, & Outcomes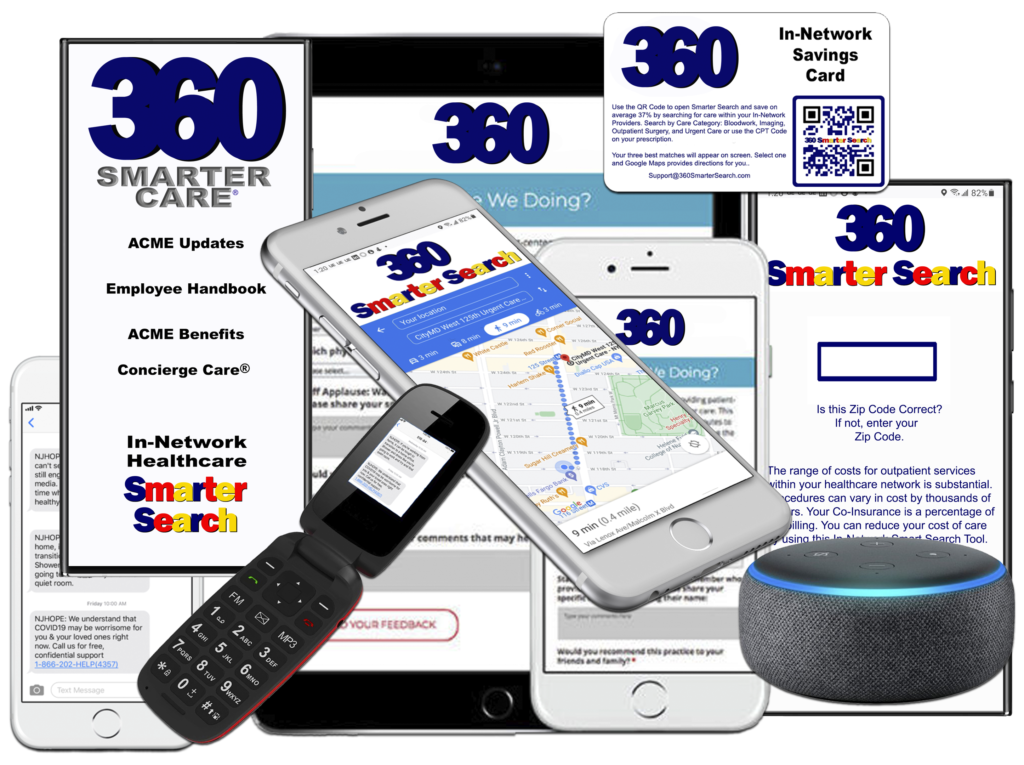 Utilizing proven behavioral engagement methods, Concierge Care personalizes care plans on a large scale; improving outcomes, reducing the cost of care, enhancing patient satisfaction, and increasing joy in practice.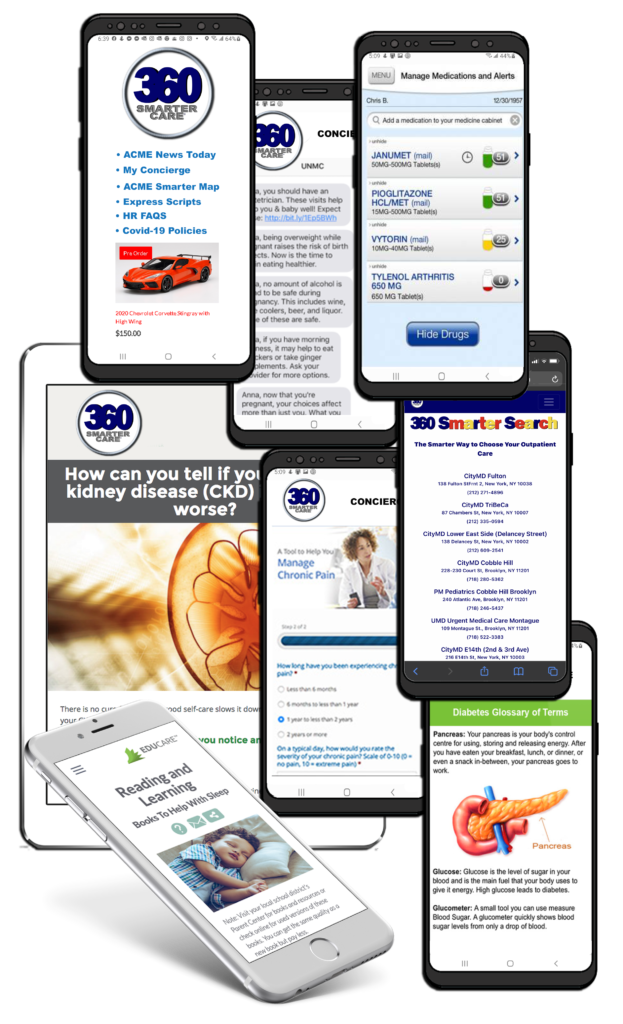 Optimize Reimbursements
Concierge Care increases patient satisfaction scores and satisfies value-based care delivery requirements to maximize MACRA reimbursements.
Personalize Plans of Care
Deliver personalized resources, support, and care while enabling the collection of electronic patient reported outcomes (e-Pro) data to drive predictive modeling.
Provide Transitional & Chronic Care Management
Virtual care delivery empowers patients to activate their self-care and enables providers to scale clinical services.
Improve Patient Experiences
Trust and credibility is fostered with patients through enhanced health care delivery.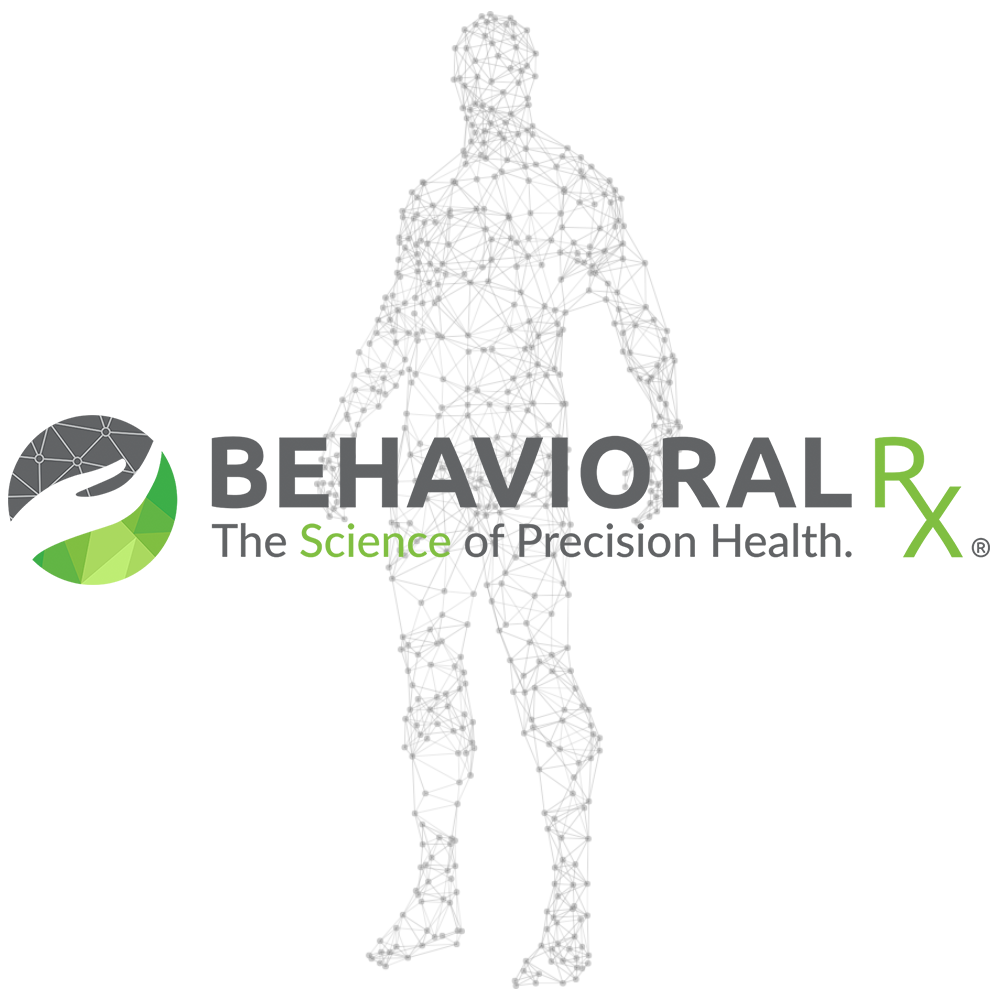 BehavioralRx has proven to positively impact reality and data, not just monitor or report on it. We achieve this by becoming a partner and supporter in a person's day-to-day lifestyle. No two people are identical when viewed from a combined emotional, behavioral, physical, and metabolic perspective. With this guiding principle in mind, BehavioralRx precisely treats each person, not just their disease.
The scientific methods and algorithms behind BehavioralRx have produced significant evidence-based improvements around the world in managed long-term care, transitions of care, and gaps in care for patients with chronic and highly complex conditions.
Bedside Concierge™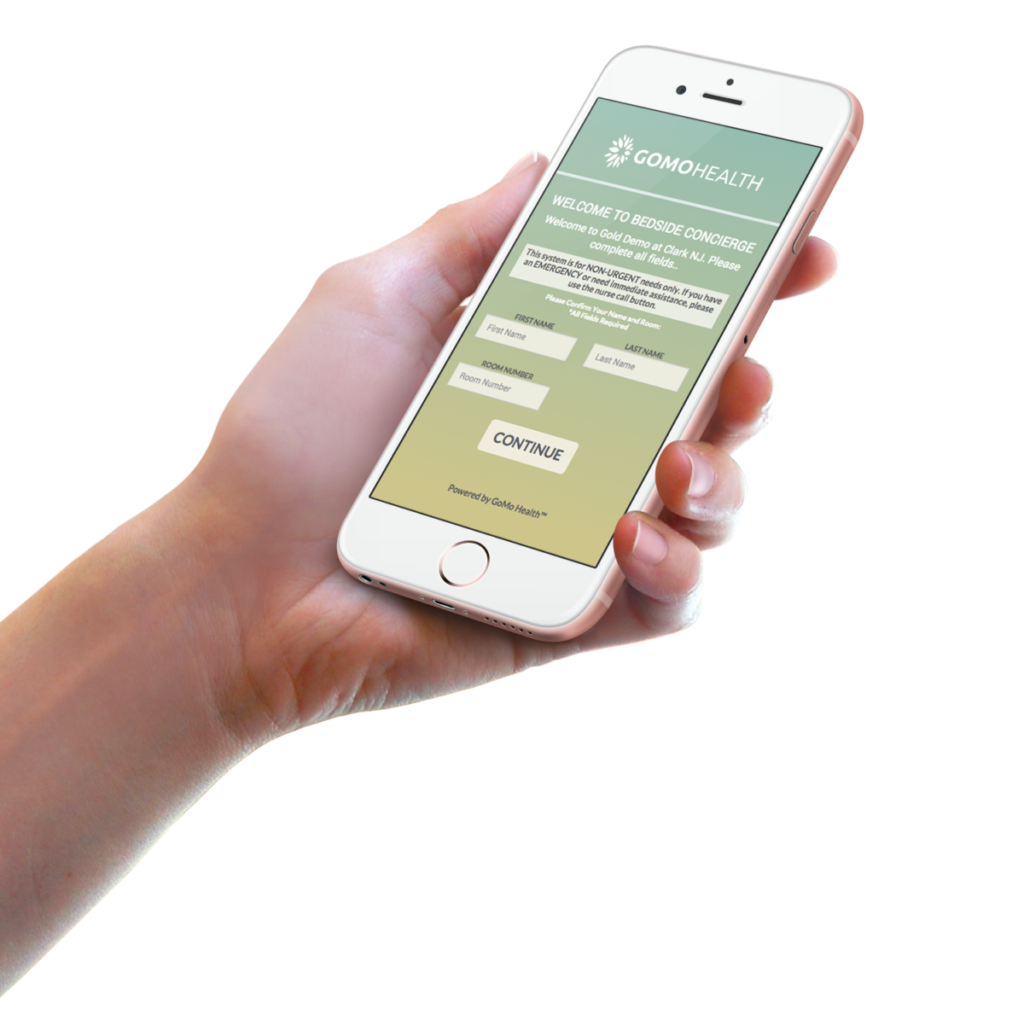 Empowering patients to submit non-clinical comfort requests in their moment of need, ensuring a positive inpatient experience. Uniquely designed to offload nurses from processing patients' comfort requests typically submitted through the nurse call button, Bedside Concierge electronically directs those requests to the departments that can service them. At the same time, it refocuses nurses on clinical patient care delivery, increasing their Joy in Practice.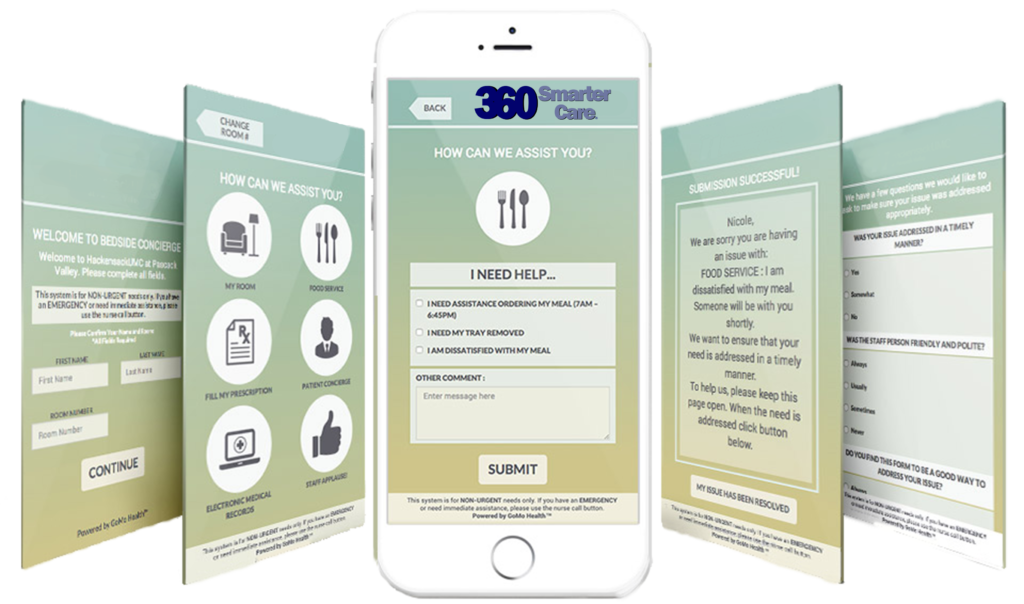 EMR Access
Need access to your Electronic Medical Records? They're a click away.
Housekeeping Requests
Room need cleaning or you'd just like an extra pillow or blanket? We've got you covered.
Room Environment
Need the temperature in your room adjusted? We're here to make everything about your stay more comfortable.
Patient Advocate
Need help making your healthcare decisions? Call a patient advocate for assistance.
Food Service
Ready for that tray to be whisked away? Want something else to drink? Let us know, we'll take care of it.
Bathroom Assistance
Having trouble getting out of bed and to the bathroom? Help is right around the corner.
Pharmacy
Would you like your prescription filled? We'll have it ready for you when you're headed home.
Staff Applause
Is there a nurse or healthcare professional who deserves some praise? Let them know!
"By using the Bedside Concierge™ to submit, process and deliver the non-clinical requests of our patients through each of the departments that can directly service those needs, the cost of patient care is reduced and efficiencies expanded. Bypassing the nursing team for servicing these important "comfort" needs of patients allows us to focus our energies completely on the clinical care of patients in the hospital, enhancing the patient experience, improving our work life and leading us to appreciate the "joy in practice" that was pivotal in our decision of careers in nursing."
Susan Giordano, Chief Nursing Officer, Pascack Valley Medical Center
Community Concierge™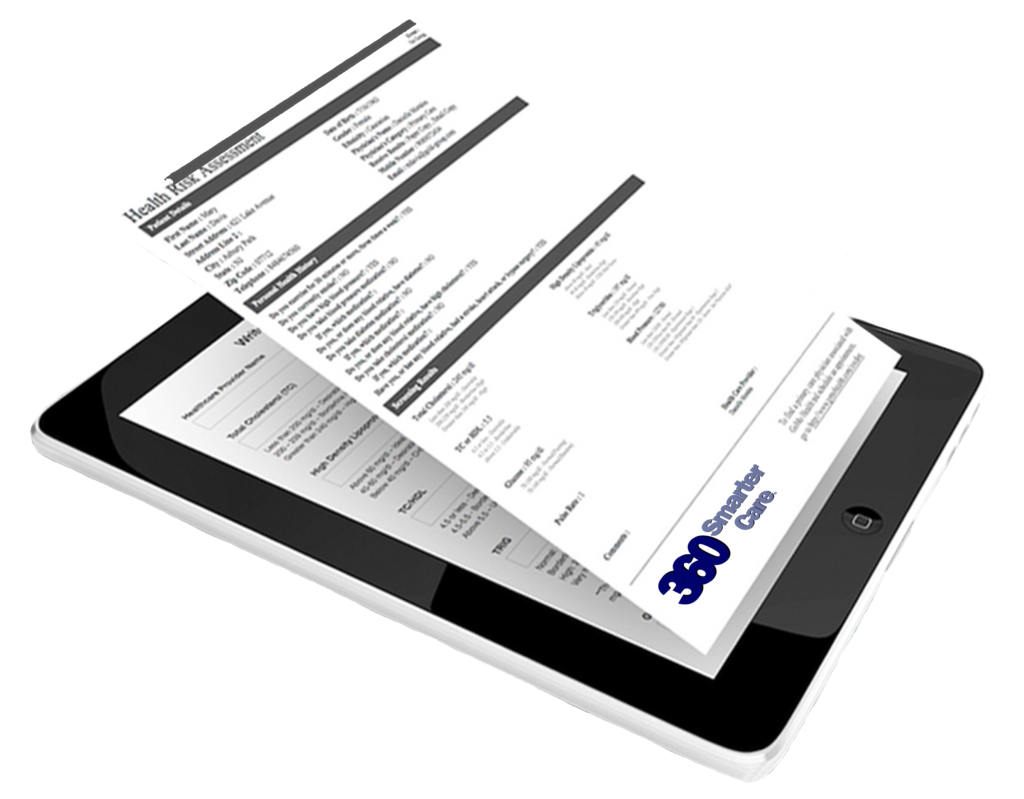 Automating the collection of health risk assessment data while Improving data accuracy to drive precision healthcare delivery. Community Concierge collects patient data and generates reporting to improve coordination of care delivery across current and potential patient populations. As a result, opportunities are created for proactive disease management, readmission reduction, and more cost-effective care.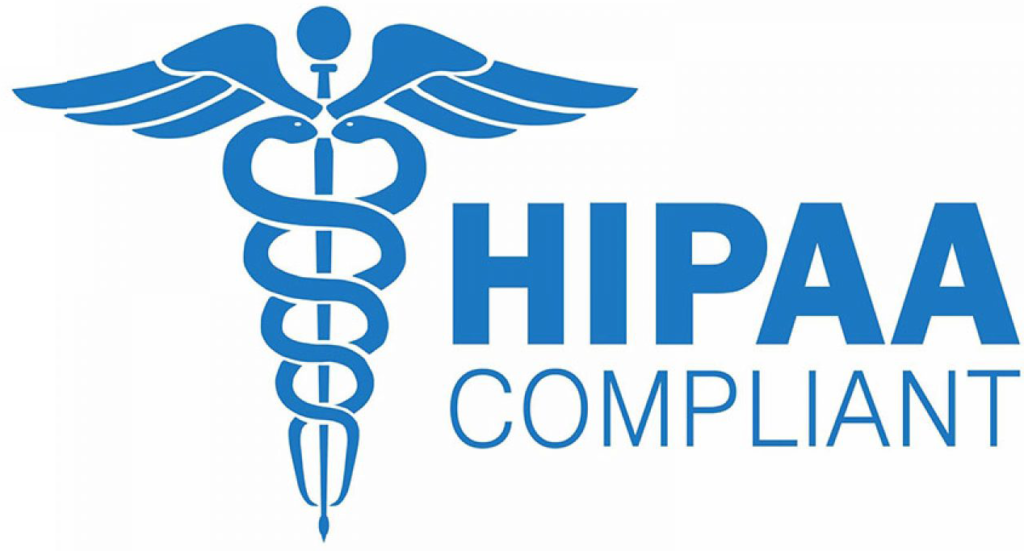 Text (SMS) Message
Send your patient or members test and screening results directly to their mobile device via a HIPAA secure link.
Email
Securely deliver test and screening results to a patient or member's personal email account.
Database
Share community screening results with providers via HL7 compliant secure data transfer.
API
Integrate with EMR, EHR, HIS and practice management systems via API to obtain real-time data.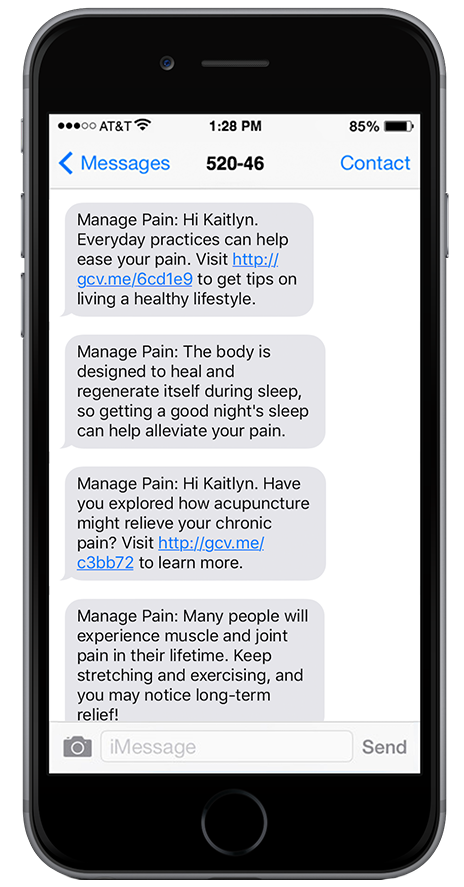 Care Messages™
Send personalized messaging related to a condition, care plan, and more. Let your audience choose their preferred communication method(s) to ensure for maximum engagement.
Discharge Concierge ™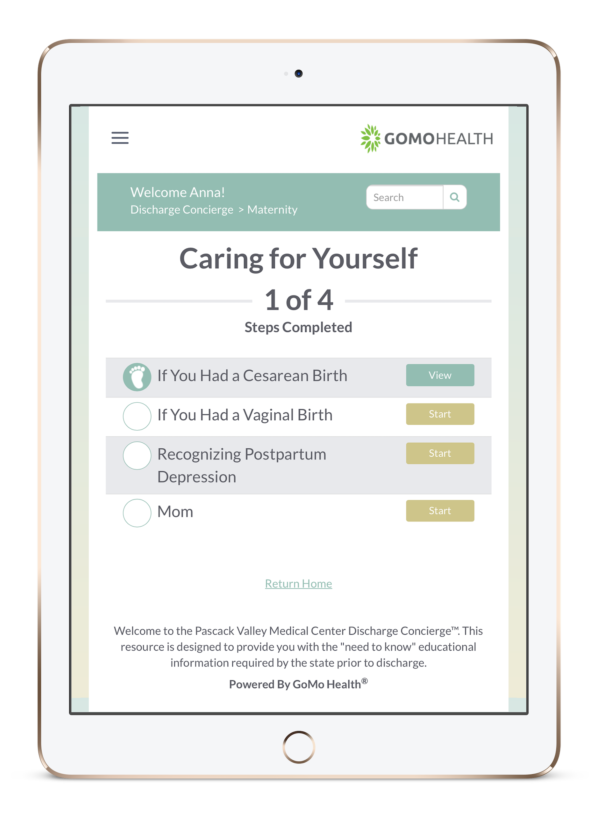 Streamline the Hospital Discharge Process with Increased Compliance
With Discharge Concierge, state-mandated pre-discharge patient education is delivered directly to patients for optimal cognition. In a fully automated yet highly personalized experience, resources are accessible via any web-enabled device – with inpatients reviewing content at their own pace, indicating completed content in an interactive checklist, noting any questions in a live notepad, and requesting nurse time for clarification only as needed. Patient completion is linked automatically via API to the patient's electronic medical record, yielding a 100% turnkey process.
Activate Patients
Free up nurses to practice at the top of their license, focusing on delivery of expert clinical care while reducing time spent on non-clinical care of patients. Automating the patient education process provides patients with the resources they need to feel confident to manage their own care when they leave the hospital, saving time and reducing cost.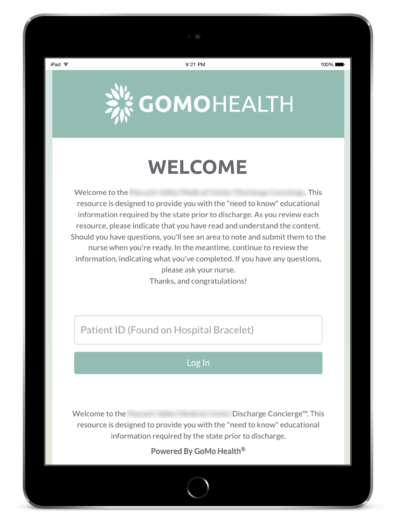 Effortless Access – Provide patients with the resources needed to self-complete state-mandated, "need-to-know" content prior to discharge. Organize your content by department, condition, or specific educational regimens for easy deployment.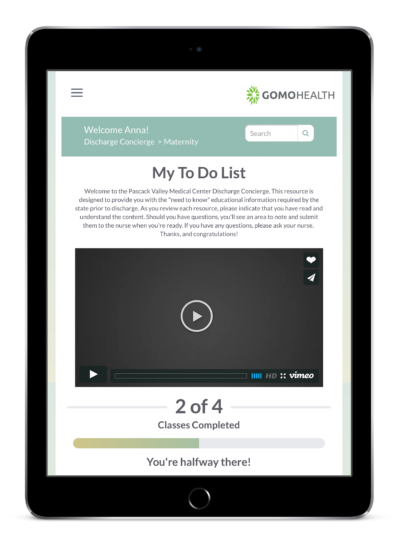 Personalized Patient Care – Patients review content specific to their condition that can be independently completed through an easy-to-navigate, intuitive online portal. Discharge Concierge keeps track of progress and encourages patients to complete their checklist.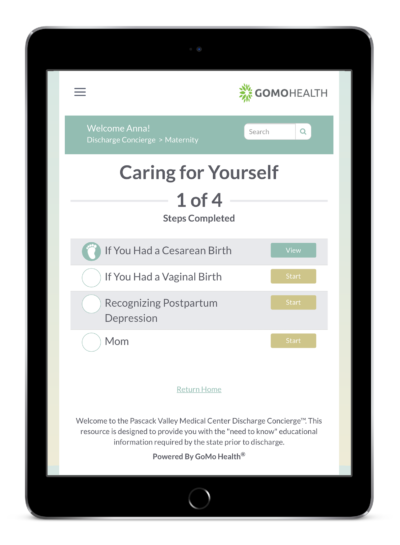 Track Progress & Reduce Complications – Discharge Concierge remembers where patients left off, returning to the last viewed document if they close the portal for any reason. To keep things moving, nurses can check on patient progress and prepare responses to submitted questions in advance.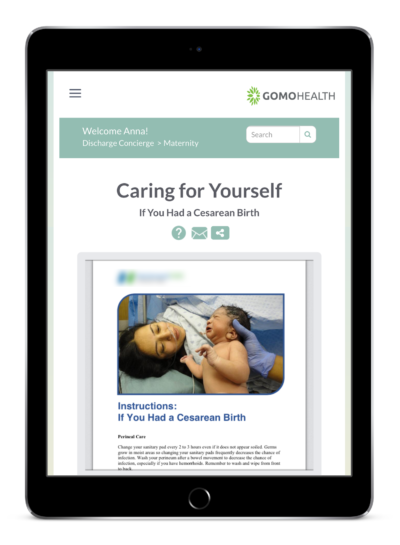 Patient Specific Knowledge Base – Patients can send educational materials to themselves, family, or caregivers via email or text (SMS) message for future reference and review, ensuring they still have access to their content after they leave the hospital.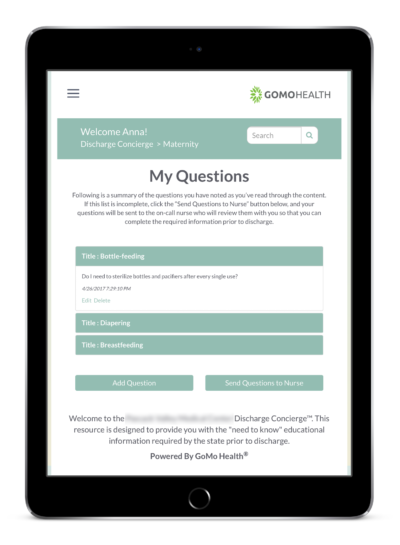 Documented Discharge – Patients can document questions in Discharge Concierge, prompting discussion with the nurse as needed. If patients have no questions, they proceed independently through the content to completion.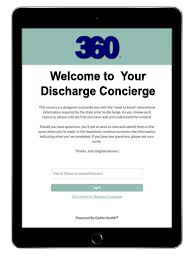 Automated Compliance – Utilizing a real-time API integration, Discharge Concierge™ can connect directly to your EMR/EHR to track and document progress to ensure compliance with healthcare laws and regulations.
Digital Physician's Assistant™
Reducing the Cost of Healthcare Delivery Through Patient Activation
Personal Concierge is uniquely designed to convert complex clinical protocols into simple, step by step, snackable bites of digestible information to ensure- higher patient compliance with remote care directives.
Personal Concierge communicates with patients and caregivers pre- and post-discharge to ensure early detection of issues and increased activation with self-care. By delivering condition-specific and wellness education to patient populations, clinical care teams can scale their services while motivating patients to more effectively self-manage their conditions.
Care Messages™
Care Messages are delivered to patients on their mobile device throughout their treatment and include content that is relevant to specific milestones along the patient journey. Care Messages contain links that will guide the patient back to the Care Companion to learn more about a given step in treatment, medication or supporting tip.
Care Companion™
This cloud-based Learning Management System (LMS) provides credible educational content that is personalized and sequentially structured into sections and topics to promote independent education and learning, engagement, and treatment adherence.
GoMo Chat™
Much like a typical text conversation, GoMo Chat allows live messaging between patients and specific members of their clinical care team, enabling in-the-moment, secure conversations.
Remote Patient Monitoring (RPM)
Through Remote Patient Monitoring (RPM), providers can track the health of their patients outside of traditional clinical settings. Medical devices connect to the GoMo Health hub via Bluetooth, recording and storing data in the cloud for tracking and reporting.
A "Clinic at Home" Model for Care Delivery
Through Remote Patient Monitoring (RPM), medical devices connect to the GoMo Health hub via Bluetooth, recording and storing data in the cloud for tracking and reporting. Over 150 devices are supported, including glucose meters, blood pressure readers, oximeters, scales, and thermometers. Using a web-based dashboard, clinical care teams are able to assess and act upon the collected data.
Patients Benefits of RPM:
Measurement of Vitals in the Comfort of Home or Office
Reduced Travel Burden for Those in Rural Areas
Hassle-free Vital Submission
Increased Efficiencies with Submission and Review of Metabolics
Decreased Risk of Exposure to COVID-19
RPM is right for Self-Funded Healthcare Plans if:
Quality of Care and Improved Outcomes are Important
Healthcare Cost Containment is Mission Critical to Your Organization
Presenteeism is an HR Priority
Employee Retention and Recruitment are Priorities
the Health and Wellbeing of your Employees or Members are Your #1 Priority
RPM is right for your Hospital or Practice if :
Automated Triage
Real-Time access to Alerts and Historical Data
Increased Revenue thru RPM
Increased Patient Activation Measurements (PAM)
In-the-moment Assessment & Escalations
Increased Clinical Reach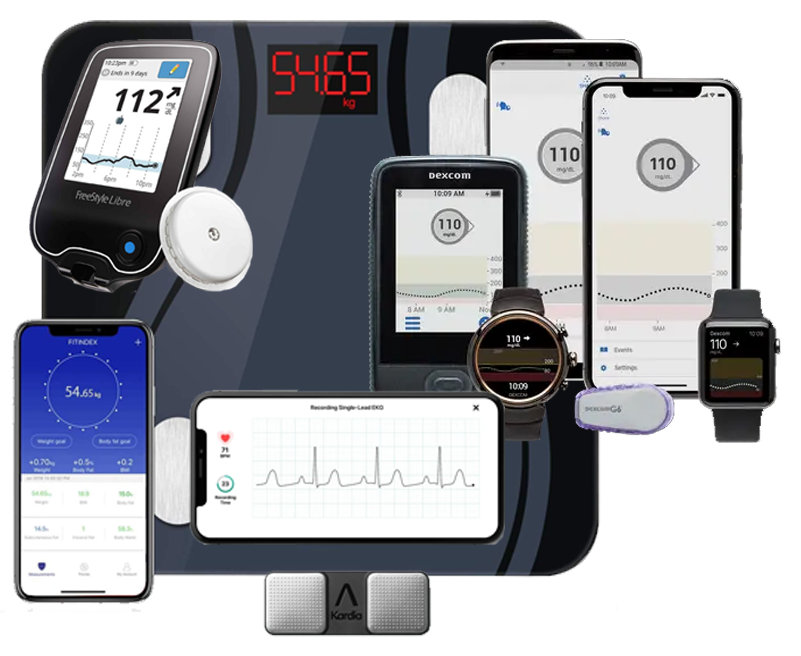 Thirty million US patients will use RPM tools by 2024.
Additional Platform Components and Features
2-way Secure Chat
Analytics and Reporting
API Integration
Appointment Reminders
Auto-Replies
Campaigns and Automated Regimens
Custom Fields and Variables
Data Collection
Double Opt-in
EMR/EHR Integration
HIPAA Compliant Secure Messaging
Health Risk Assessments
Keyword Sign Up
Link Shortening & Tracking
Medication Reminders
MMS Picture Messaging
Multiple User Accounts & Privileges for Teams
Nurse Call Center Integration


Personalization
PURL (Personal URL) Integration
Recurring Messages
SMS Text Message Blasts
Spanish/Multilingual Translation
Subscriber Management & Segmentation
Surveys and Feedback
Templates
Web Form Enrollment